About Us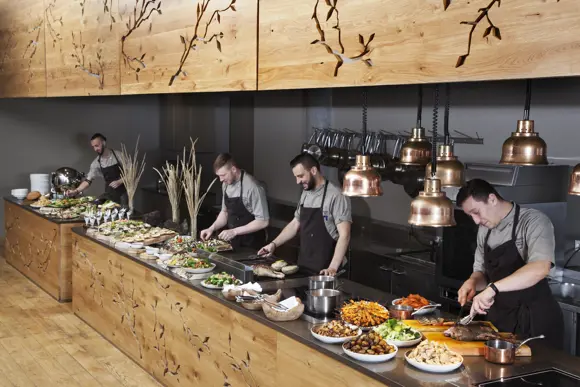 Welcome to Haust, a unique restaurant located at the Fosshótel Reykjavik at the heart of the financial district and a stone's throw away from the bustling Hlemmur square in the city centre.
Haust, which means autumn in Icelandic, focuses on fresh seasonal produce in an elegant setting. The spacious and beautifully designed restaurant offers great versatility with cosy corners for couples, long tables for groups and comfortable seating for families. Haust is renowned for its lavish dinner and brunch buffet served on a long counter featuring meat, game, poultry, fish, greens, vegetarian and  vegan options and an array of desserts with an ambitious selection of wines.  At Haust there's something to every taste and our chefs will be happy to assist you in your selection.
Breakfast buffet everyday from 6:30 am – 10:00 am | Lunch buffet all weekdays and brunch buffet on weekends | Dinner buffet all evenings | Open from 6:00 pm – 9:00 pm
Contact us: (+354) 531 9020
We are here
Located on the ground floor of the new Fosshotel Reykjavík, Iceland's largest hotel, at Höfðatorg. See us on the map below.