Events at Haust
Big American Christmas Buffet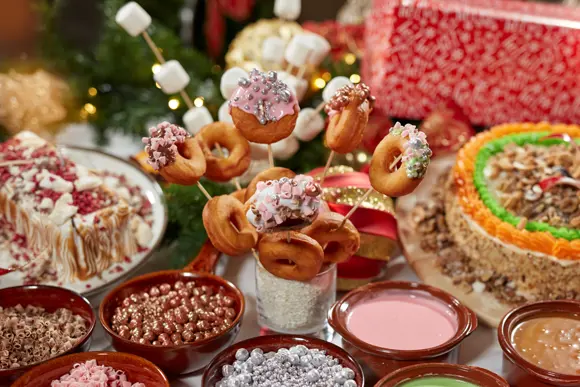 Enjoy the magical moment of christmas with family and friends on a real American christmas buffet. 16.november-2.January. 
Every day: 6pm-10pm
Price
Thursday-Saturday 13.900 Isk
Sunday-Wednesday 10.900 Isk
Children age of 6-12 get 50% discount
Children age of 0-5 eat for free
STARTERS
Pumpkin soup | Fresh salad | Red cabbage and cranberry salad
Root vegetables with nut and fig dressing | Sunchoke, broccoli
and string bean salad with cranberries | Glazed pecans with baby
corn Pumpkin and string bean salad | NY Waldorf-Astoria salad
Cauliflower and cherry tomato salad | Smoked salmon pâté
NY shrimp cocktail | Shellfish salad | Smoked duck | salmon three ways
MAIN COURSES
Whole roasted Turkey | Turkey breast | Honey glazed Christmas ham
Roast pork | Nut roast Wellington | Beef Wellington | Leg of lamb with fresh herbs
SIDES
Grandma's stuffing | Sweet potato mash | Baked cauliflower
Creamy Brussel sprouts with bacon | Potato gratin | Sweet potatoes with rosemary | Cranberry jam with Grand Marnier
SAUCES
Champagne supreme with rosemary | Thymes sauce | Orange and cranberry sauce
DESSERTS
Doughnut bar | Apple pie | Pecan pie | Brownies with chocolate ganache | Pumpkin pie
Fruit salad | Passion fruit fromage | Chocolate mousse | Bûche de Noël | Ice cream bar | Chocolate fountain and fruit salad
Christmas Brunch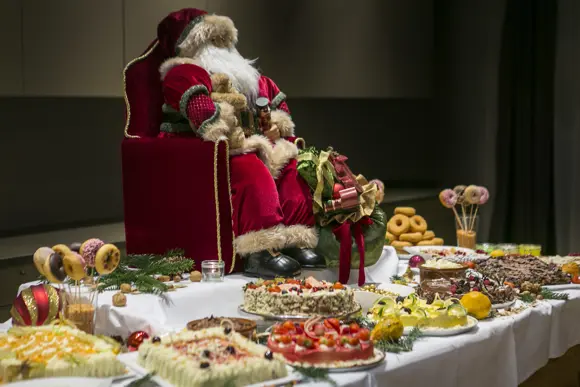 Christmas Brunch all weekends (starting from 18th of November) from 11:30am -2:00pm
Price : 6.900 Isk.
Children age of 6-12 get 50% discount
Children age of 0-5 eat for free
STARTERS
Pumpkin soup | Fresh salad | Red cabbage and cranberry salad
Root vegetables with nut and fig dressing | Glazed pecans with baby corn
NY Waldorf-Astoria salad | Cauliflower and cherry tomato salad
Smoked salmon pâté | NY shrimp cocktail | Shellfish salad
Scrambled eggs | Bacon | Eggs Benedict
MAIN COURSES
Turkey breast | Honey glazed Christmas ham | Roast Pork | Nut roast Wellington
SIDES
Grandma's stuffing | Sweet potato mash
Potato gratin | Sweet potatoes with rosemary | Cranberry jam with Grand Marnier
SAUCES
Champagne supreme with rosemary
Thymes sauce | Orange and cranberry sauce
DESSERTS
Doughnut bar | Apple pie | Pecan pie | Brownies with chocolate ganache | Pumpkin pie
Fruit salad | Passion fruit fromage | Chocolate mousse | Bûche de Noël | Ice cream bar | Chocolate fountain and fruit salad
Christmas Lunch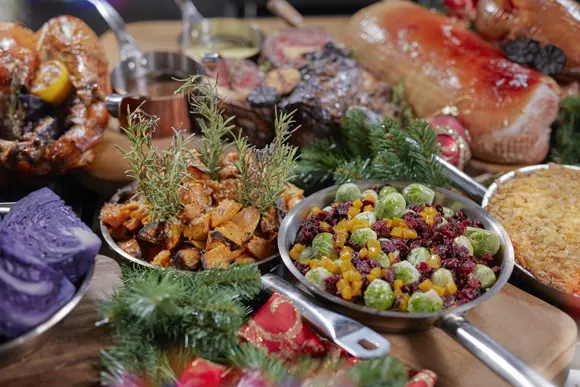 Christmas Lunch on weekdays (starting from 16th of November) from 11:30am-2:00pm
Price: 5.500 Isk
Children age of 6-12 get 50% discount
Children age of 0-5 eat for free
STARTERS
Pumpkin soup | Fresh salad | Red cabbage and cranberry salad
Root vegetables with nut and fig dressing | Glazed pecans with baby corn
NY Waldorf-Astoria salad | Cauliflower and cherry tomato salad
Smoked salmon pâté | NY shrimp cocktail | Shellfish salad
MAIN COURSES
Turkey breast | Honey glazed Christmas ham | Roast Pork | Nut roast Wellington
SIDES
Grandma's stuffing | Sweet potato mash
Potato gratin | Sweet potatoes with rosemary
SAUCES
Champagne supreme with rosemary
Thymes sauce | Orange and cranberry sauce
DESSERTS
Doughnut bar | Apple pie | Pecan pie | Brownies with chocolate ganache | Pumpkin pie
Fruit salad | Passion fruit fromage | Chocolate mousse | Bûche de Noël | Ice cream bar | Chocolate fountain and fruit salad